Good morning everyone. Today I wanted to introduce a new feature on my blog called No Pants November. I'm challenging myself to only wear skirts or dresses for the month of November. Why? Well, why not? Personally, I find real pants (other than those for yoga) to be very uncomfortable. Why would I choose to wear something uncomfortable like pants when I have soooo many skirts and dresses I could be wearing instead? Dresses and skirts make me feel more free since they are far less restricting.



Here are my challenge "rules":


Anytime I leave my house I will wear a dress or skirt instead of pants (with the exception of work because pants are required for my uniform).
I will continue to wear pants at home since I don't want to ruin any of my skirts with soot from the fireplace or cleaners or food, etc.
Repeat outfits are discouraged, considering how I have so many skirts.
Challenge will commence on November 1 and finish on November 30.
I'll be posting my outfits with the tag #NoPantsNovember on
Pinterest,
Facebook
and
Twitter
and I'd love for you to join me in this challenge! If you have a blog feel free to use the badge below to link up with me and be sure to post your outfit links in the comments section.
I look forward to seeing what everyone comes up with and challenging myself to create interesting outfits.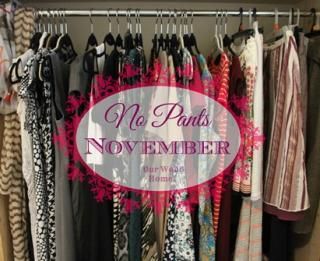 <a href="http://ourwoodhome.blogspot.ca/2014/10/no-pants-november.html"
target="_self"><img src=&#34"http://s92.photobucket.com/user/christina_valerie/media/nopantsnovember_zpsf265b9b4.jpg.html"" alt="OurWoodHome" width="125" height="125" /></a>
Labels: fashion